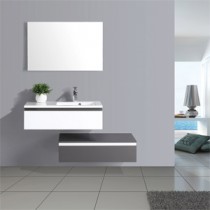 QX Bathroom Furniture
Should you desire the pristine gleam of high gloss white, or the warmth of natural wood finishes, the QX ranges of Bathroom Furniture bring together both form and functionality to assist you in creating the bathroom of your dreams.
QX are proud to further develop their own lines of furniture and introduced several new designs to expand the Genesis and Ascent Furniture ranges. Thier furniture is designed alongside the rest of their product ranges, with unity in mind, allowing you to find the perfect way to tie your bathroom together.